Become actors of your vacations! Our teams are there to help you live new experiences, to share fun or emotional moments with numerous on-site activities.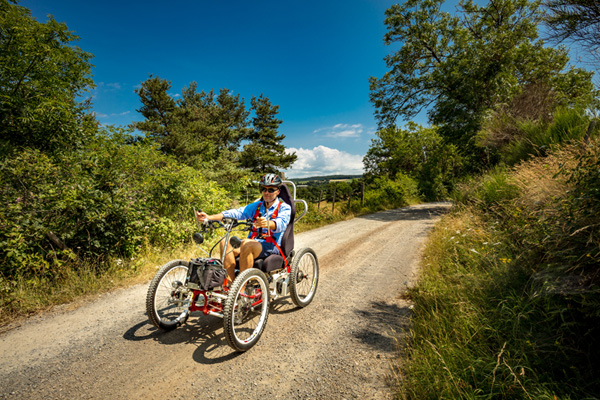 Fun activities
The village offers fun activities for all ages, supervised by professional entertainers and sports instructors. In July and August, from Monday to Friday, when you book your stay, or when you arrive and according to availability. From 10am to 5:30pm.
Activities :
Tennis, archery, table tennis, badminton, cooperative and collective games, precision activities (blowpipe, boccia, …), climbing: EUR 60/session (1 hour) maximum 8 people.
Hiking, discovery of fauna, flora and local heritage (snack at the farm supplement EUR 7/person)
Orienteering: EUR 100/session (2 hours) maximum 12 people
Introduction to golf: EUR 80/session (1 hour) maximum 6 people
Hiking circuits 
Starting from the village, there are marked hiking trails of several distances: 5, 7 or 12 km. An electric wheelchair is available. It is also possible to rent mountain bikes, see at the reception.
Thematic walks
A playful and sensory approach to nature! Leave accompanied by a guide on the small paths around the village. A walk for all where all your senses will be stimulated! Different themes are proposed (e.g.: Plants that can be eaten and cured along the path)
Information and reservation : Patrick LAFONT at +(33)6 78 81 75 79
10 minutes away : four wheeler ride
Hop on the endless gravel roads of the region and enjoy the sensations! Information and reservation : Sébastien BEAUFILS at +(33)6 88 49 45 82
To make the most of your stay, a range of services is offered to simplify your life.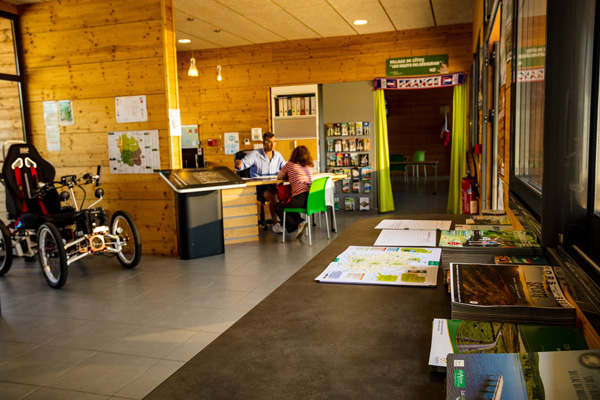 The reception
The reception is open from 8:30 am to 4:30 pm 7 days a week in July and August. Depending on the season, animations will be proposed to you. These activities are free, free of charge, or subject to a charge when they require the services of an outside agent (Via ferrata, canyoning, etc.) or the rental of equipment (canoe, mountain bike).
Arrival and departure 
Arrival from 4:30 pm
Departure before 10am. 
If arrangements need to be made with regards to the timing of your arrival/departure, do not hesitate to contact us. 
Catering
Take advantage of the cafeteria of the CEM/CRF to eat, located 50 meters away from the village.
Self-service restaurant, using individual trays.
Upon reservation, you can order take away meals at EUR 6.50 each.
Breakfast EUR 6.00 served at the village reception in the form of an all-you-can-eat buffet – Lunch EUR 9.00/full menu (2 choices) – Dinner EUR 9.00/full menu (1 choice)
The service hours are from 8:30am to 10:00am for breakfast, from 11:30am to 1:00pm for lunch and from 6:30pm to 7:30pm for dinner.
You also have the possibility to choose an individualized catering service, served at the village reception from EUR 13.00/pers/full menu excluding drinks, regional menu, INSEP….)
Catering is possible from 15 people.
Bakery
To start the day, we offer you fresh bread, baguette, pastries…
Available every morning; to be ordered the day before, before 4:30p.m.
Laundry
A laundry is at your disposal 24 hours a day; tokens are on sale at the reception:
EUR 5.50 for the washing machine
EUR 1.60 for the dryer (10 min)
Rental or loan of equipment (on reservation)
Baby kit: available for all stays (a cot, a booster seat or a high chair, a bathtub.)
Barbecue and raclette and fondue machines : on availability
Topoguide : at disposal.
Bed linen rental EUR 5.50 and EUR 2.30 for the bathroom towels
Wi-Fi
All the cottages are equipped with high speed internet access by cable and WIFI. Those who have a computer can get a cable at the reception desk.
Medical services
Medical equipment and accessories: Rental and installation of specific equipment. Fitting center: +(33)4 66 49 58 73 mat.med@centredemontrodat.fr